2017-05-11
"La Vie en Rosé"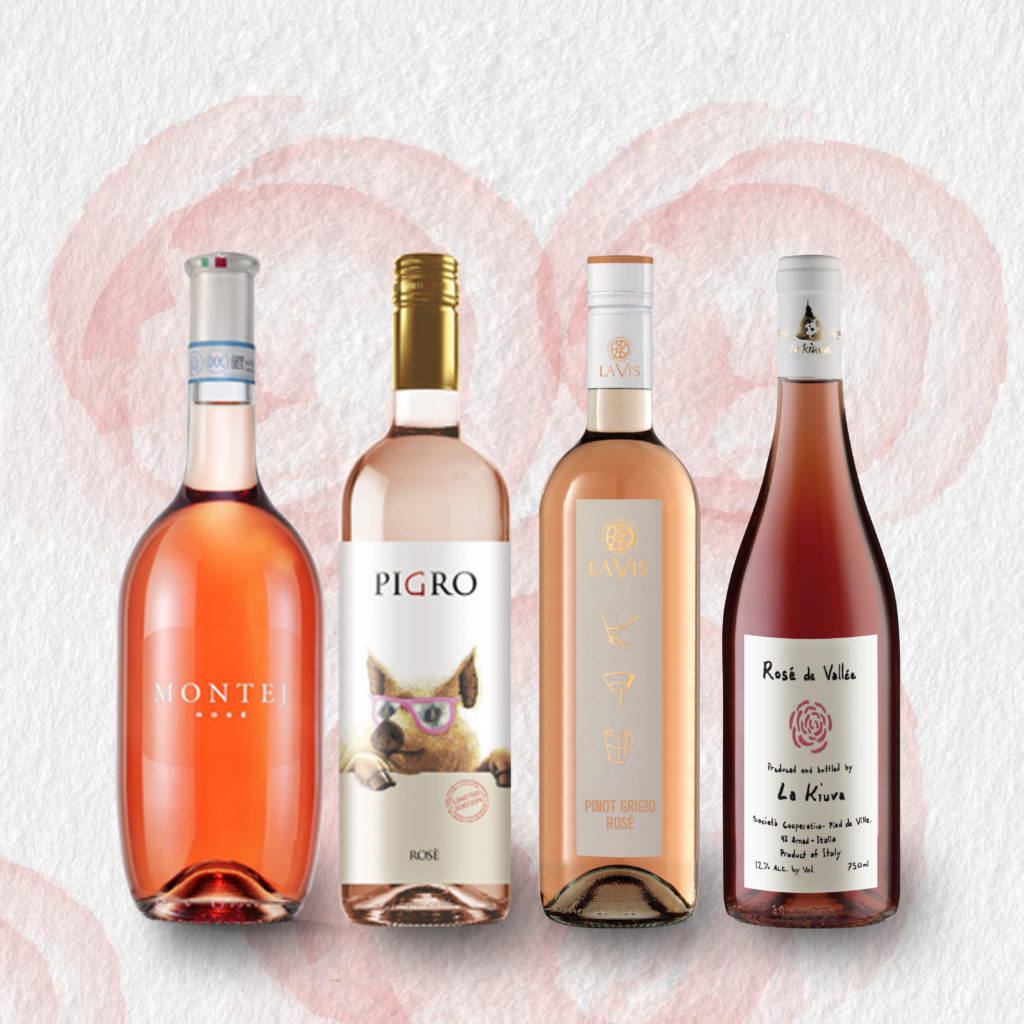 April showers may be known to bring May flowers but the return of spring also beacons the return of the coveted rosé season! Italian rosé is almost always referred to as Rosato, although sometimes the terms Chiaretto and Ramato are used too. If you've ever visited or tasted wines from Italy's Abruzzo region, you may see the term "Cerasulo". This term is indicative of the regional wines' vibrant pink hues. Today, we'll be discussing the rosés of Ethica Wines, and discern the unique characteristics of the Italian varietals used in our portfolio of rosé. As rosé season approaches, be on the lookout for some of these Italian gems.
Rosé from Umbria
Umbria is located in the center of Italy, across the Apennines Mountains, north of Rome and east of Tuscany. Here, similar to several other regions of Italy, Sangiovese is the king varietal, making up 22 percent of all varietals grown in the area. In the early 90's blending Sangiovese with international varieties became an emerging trend across Italy – eventually coined as the 'Super Tuscan' movement – combining the tradition of  indigenous Italian varietals and the popularity of Merlot and Cabernet. Today, Super Tuscan wines have remained among the most sought after Italian wines in retail stores precisely because of familiarity of grape varietal and sheer deliciousness.
Wine to look for: Pigro Rosé
A cheeky companion to rosé season is Pigro, a Merlot-Sangiovese- based rosé. Soft pink in color, this rosé sipper delivers delicate notes of strawberry and red currant. Of all the roses to enjoy this summer with seasonal fare, pair this beauty early on the menu with a light salad or gazpacho before diving into heartier rose-friendly dishes such as paella.
Rosé from Valle d'Aosta
Valle d'Aosta, also known as the Aosta Valley, is located in the most northwestern part of Italy, bordering both Switzerland and France. As Italy's smallest and least populous region, Valle d'Aosta not surprisingly has by far the smallest wine production of any Italian region. However, given its location, the Valle d'Aosta wine scene is heavily influenced by its Swiss and French neighbors. In addition to the dominantly-planted Petit Rouge, one can find small traces of the lesser known Gros Vien and Neyret grapes, which are excellent for blending, offering intense aromas and good structure.
Wine to look for: La Kiuva Rosé de Vallée
For a structured wine that can hold up to the meatier dishes of summer (think Barbequed meats and fish), opt for La Kiuva's Rosé de Vallée. The sandy oils of the Aosta Valley add minerality to this wine with a delicate savory finish. Aromas of fresh fruit and wild berries leave you always wanting more.
Rosé from Piedmont
Piedmont occupies most of northwestern Italy, bordering Switzerland in the north and France in the west and almost reaching the Mediterranean coast. Piedmont is best known for the twin wine titans: Barolo and Barbaresco, but is also home to other popular red varietals such as Barbera and Dolcetto. The latter two grapes make excellent rosés. Separately, these grapes offer opposing flavor profiles, with Dolcetto yielding low acidity and high tannins, while Barbera provides low tannins and high acidity. Combined, these grapes produce a wine that is balanced and crisp to enjoy alongside oysters, crab and other seafoods.
Wine to look for: Montej Monferrato Chiaretto DOC
Bright pink in color with fresh aromas, this rosé is an ideal summer wine. A two-week fermentation in stainless steel provides an excellent crisp zip with every taste.
Rosé from Trentino-Alto Adige
Trentino–Alto Adige is the northernmost Italian region, comprised of two areas with very different personalities: the Germanic Alto Adige, which borders Austria, and right below it the more Italian but still very Alpine Trentino. Pinot Grigio, an international variety is the most-exported type of varietal wine from Italy. In this region, the variety is sometimes used to produce a Pinot Grigio Ramato. During production, the grapes' pale purple skins stain the wine a pale copper hue.
Wine to look for in the Canadian market: LaVis Simboli Pinot Grigio Rosé delle Venezie IGT
Its coppery color combined with an intense bouquet of citrus fruits and floral aromas are the typical traits of Pinot Grigio rosé. With a strong sensation of minerality on the palate, the taste is in harmony with the wine's soft and silky tannins.
Visit our Facebook, Instagram or Twitter page to share your favorite rosé wine and to keep up with our #WeSpeakVino campaign!
Until next time,
The Ethica Wines team